There's nothing better than using what you have on hand to get what you're looking for. Right? That must be the mantra of every up-cycler! :)
Ha, it's fun to see how your thinking juices flow when creating something from scratch, and with the added pressure of time.
Well, that's exactly what happened when I was in a rush to take some final pictures of my newly decorated bedroom, I was still trying to come up with something that could hang a gorgeous cascading plant from the highest wall in this room.
I still remember going through my stash looking for something round... A ring... A hoop... Something to be used as a hanging planter to sit the cutest cascading plant on it.
Everything seemed to be way too small for my needs, until I set my eyes on that rusty circle that had been forgotten about high on a wall in my garage.
Hello my friends, welcome back to another edition of Home & Décor Encore. A weekly series where my blogging friends and I share the best of the best from our archives.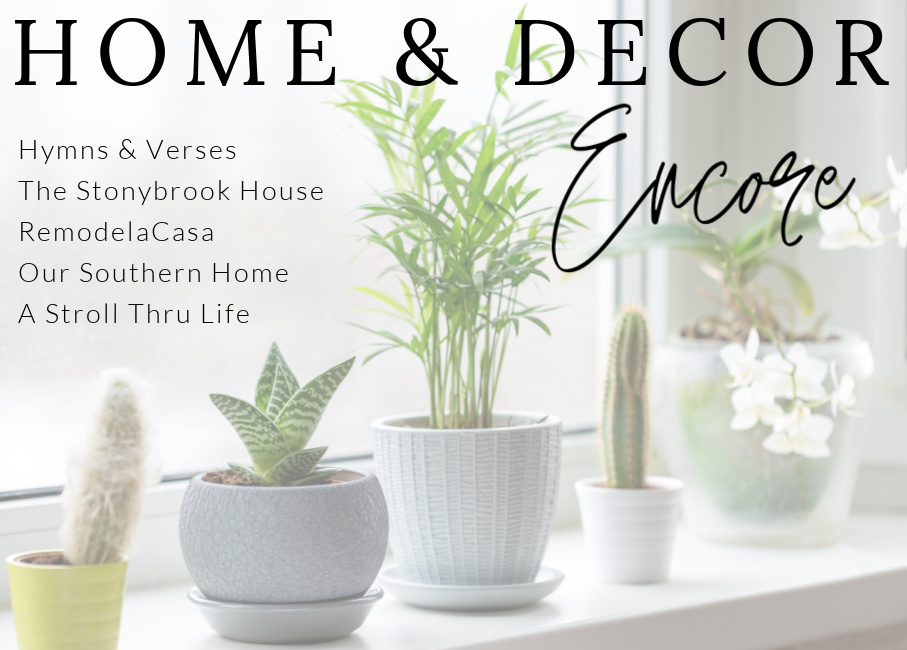 In today's post Doreen has a yummy peach ice cream recipe that I need to try ASAP! Lori has all the details on how to stain kitchen cabinets - talk about an easy kitchen makeover. Christy has more than one hundred Fall décor ideas to usher up the new season, Marty has all the secrets on how to hang drapes so they look custom, and I'm sharing how to create a hanging planter out of a contraption I had in the garage.
HYMNS & VERSES | PEACH ICE CREAM RECIPE
THE STONYBROOK HOUSE | STAINING KITCHEN CABINETS
REMODELACASA | DIY HANGING PLANTER
OUR SOUTHERN HOME | 100+ DIY FALL IDEAS
Have a wonderful weekend!!
For more repurposed/ upcycled projects check how these items were transformed:
What's your favorite?!
*This post contains affiliate links.