Good morning friends!
I hope you are all having a wonderful holiday season so far! Are you done with all the decor? I am! and it feels so good to be done.
Just in case you're still opening boxes and shuffling stuff around your house, today I'm bringing you lots more Christmas Inspiration!
Yes, it's Friday, which means a brand new edition of Home & Decor encore, a weekly series where my friends and I share the best of the best from our archives.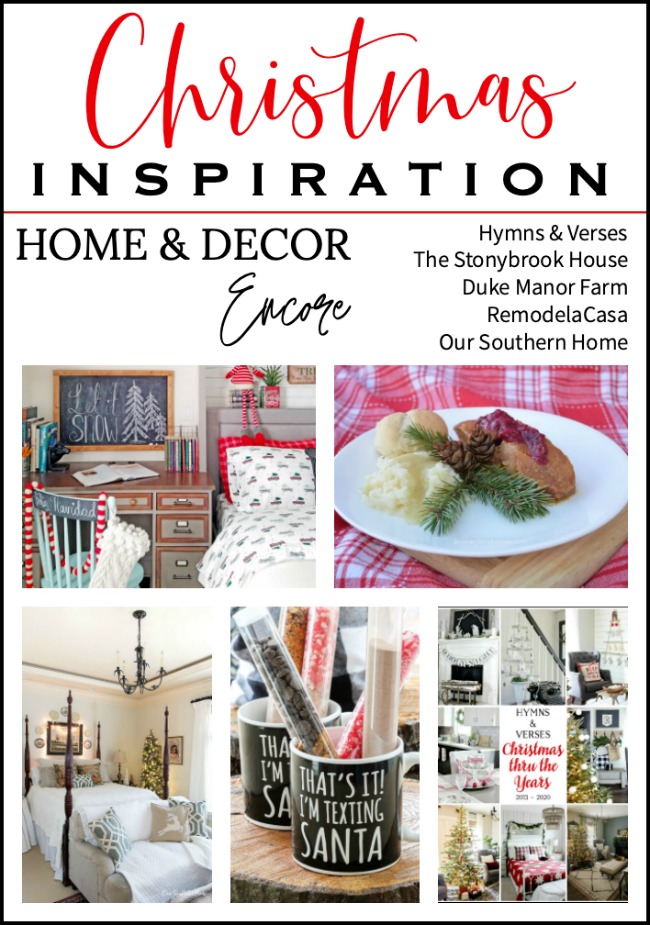 In today's post, Doreen takes us through a wonderful recap of her Christmas décor through the years, be prepared to pin pin pin all the gorgeous pictures! Lori is sharing her delicious, make-ahead ham recipe, Laura has the cutest hot cocoa and mug gift idea, Christy is taking us on a tour of her master bedroom beautifully decorated for the season and I'm also sharing a Christmas bedroom, well, my son's bedroom, the last time I decorated it for a little boy, because sadly and not so sadly, he wasn't little anymore! 😥
HYMNS & VERSES | CHRISTMAS DECOR THROUGH THE YEARS
THE STONYBROOK HOUSE | DELICIOUS MAKE-AHEAD HAM RECIPE
DUKE MANOR FARM | HOT COCOA AND MUG GIFT IDEA
REMODELACASA | CHRISTMAS BOY ROOM
Enjoy the weekend!!
For more Christmas décor ideas check these out: