We usually bring change to all the common spaces in our homes... living rooms, entries, family rooms, even the kitchen, but we often forget our bedrooms!
Why is that?!
Well, last year, one of my daughter's friends asked for help decorating her brand new apartment and the first room that she wanted to be decorated was her bedroom.
I jumped at this opportunity because I love to do bedroom makeovers. You can check these three bedrooms that I've decorated recently
HERE
,
HERE
&
HERE
.
Her almost empty apartment bedroom was transformed into the Parisian retreat that she always dreamt about.
These are the five steps I almost always follow when decorating a bedroom:
1. CHOOSE A STYLE
It can be modern, minimalistic, romantic chic, rustic, classy, etc. Not sure about your style? Head over to Pinterest or Instagram and follow accounts whose home you like the style of. You'll quickly start to see what direction you want to go in. And don't worry if you love more than one style. Mixing them would create a style that'll be more YOU!
2. PLAN/CHOOSE YOUR FURNITURE PIECES
The bed is without a doubt the main feature and focal point in any bedroom. If you don't have one yet, decide what size would benefit the size of the bedroom. The same goes for the nightstands.
You can draw up a floor plan of your space and include all the furniture pieces that you think you might need. It can be a desk, a sitting chair or bench, storage drawers, etc.
3. PICK A COLOR SCHEME
Picking a color scheme is something you want to do early on in your bedroom design, especially if you need to paint the walls, as this is one of the first jobs you need to do.
From white to black, there's a myriad of colors for you to choose from. Every single color is beautiful. Make it work for the type of room you want to accomplish. You can also choose a color for an accent wall if you think a specific color is too bold for the entire space.
4. PLAN YOUR WALL ART & ACCESSORIES
Artwork is a simple way to add personality to a room. It can be a gallery wall or a simple picture that you can't let go of.
Here in the accessories department, I have to include lights, curtains, vases, books, and all those decorative elements that give life to a bedroom.
5. ADD PATTERN AND TEXTURE
Add pattern to your room with wallpaper or a beautiful comforter print. Add it on small scale in the throw pillows & blanket decorating the bed.
Let's not forget texture, most importantly in white bedrooms, it helps bring the coziness factor up a notch.
Well, guess what?
It's Friday and as usual, the Home & Decor Encore team is back with another set of amazing projects from our archives!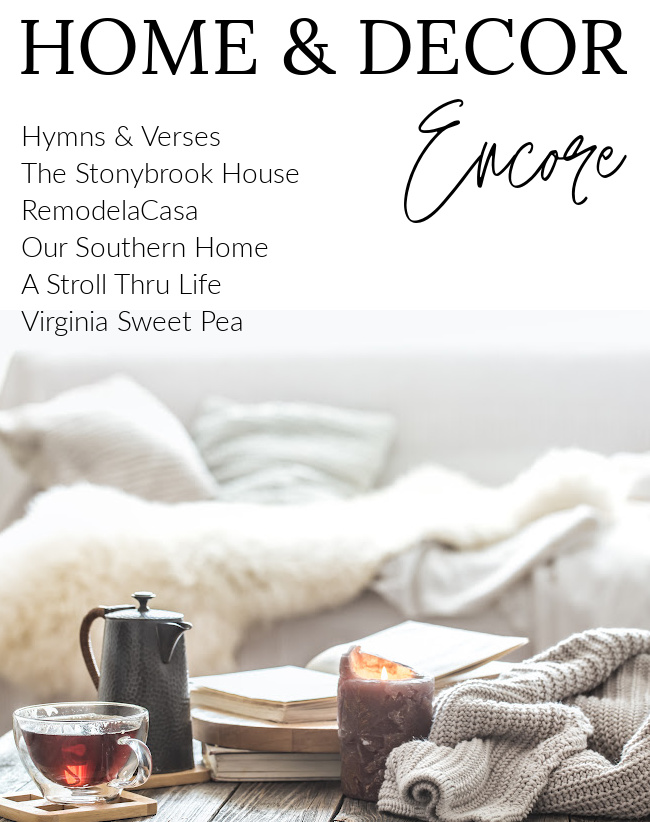 Click the link above each pic, or the picture itself to visit all the projects that my friends are sharing today:
*This post contains affiliate links.