Building a set of minimalistic modern nightstands was one of the final projects I completed for the full makeover that my bedroom got a couple years ago.
I still remember the first set of nightstands I bought for this bedroom around 20 years ago. They were huge and bulky. Each of them had three big drawers that we kept full of unnecessary junk.
When the time came for me to bring a new set of nightstands to this room, I knew exactly what I wanted...
- Clean lines
- No legs that prevented me from vacuuming the area below them.
- Have a small storage area
- Definitely no drawers!
- They had to have a cell phone charger
Well, I checked all those wants off my list and ended up with the perfect nightstands.
These walnut nightstands add a stylish finish to my bedroom with the mid-century modern and transitional designs.
I can have a few books or magazines lying on top and a few necessities inside the nightstand and they don't crowd the space.
If you're looking for a "less is more" type of nightstand to bring to the side of your bed, this is definitely the weekend project for you!
You can find the complete details for these
Modern Nightstands right HERE.
But wait... There's more!
Today is Friday and my Home & Décor Encore pals are also sharing wonderful weekend projects in this weekly series.
I'm also very happy to announce that my friend Marty from
A Stroll Thru Life
is joining the group. I would love for you to visit her and say hello.
As always, big thanks to Doreen at
Hymns & Verses
& Lori at
The Stonybrook House
for organizing this group.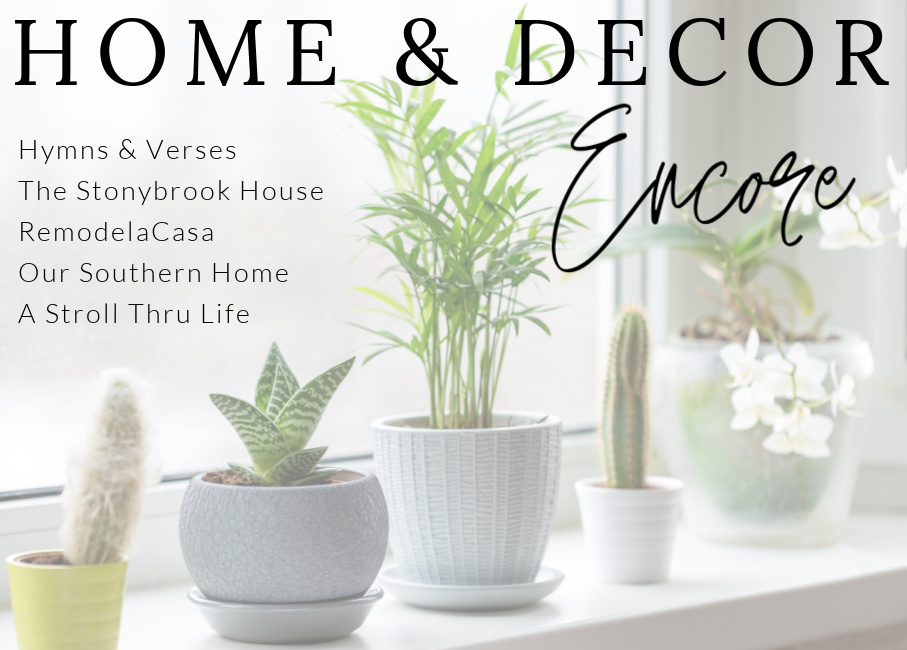 In today's post, Doreen has wonderful tips for growing beautiful peonies, Lori has the complete tutorial to build a cute set of porch planters, Christy is setting a beautiful Spring table, and Marty is sharing how to install a wide baseboard over the existing narrow one and I have the complete details and plans to build a set of modern nightstands.
HYMNS & VERSES | TIPS FOR GROWING PEONIES
THE STONYBROOK HOUSE | HOW TO BUILD PORCH PLANTERS
REMODELACASA | DIY MODERN NIGHTSTANDS
OUR SOUTHERN HOME | SPRING PORCH TABLESCAPE
A STROLL THRU LIFE | HOW TO INSTALL WIDE BASEBOARD MOULDING OVER EXISTING MOULDING
Have a wonderful weekend!!