I can't believe is already mid-January! Valentine's day is just around the corner! 😧
Oh, January!
The home is organized.
The basement finally got tamed and even the
a plethora of pictures that I lazily saved last year has been stored properly. :)
Projects...
They're always there. No need to look for them.
I just wish it were a little warmer outside so I could work in my pristine garage again. 😃
It's Friday and as always, the Home & Decor Encore group is happy to share with you the best of the best from our archives. From small home decor projects to big home renovations, you're going to find lots of inspiration from them.
Big thanks to Doreen at Hymns & Verses & Lori at The Stonybrook House for organizing this group.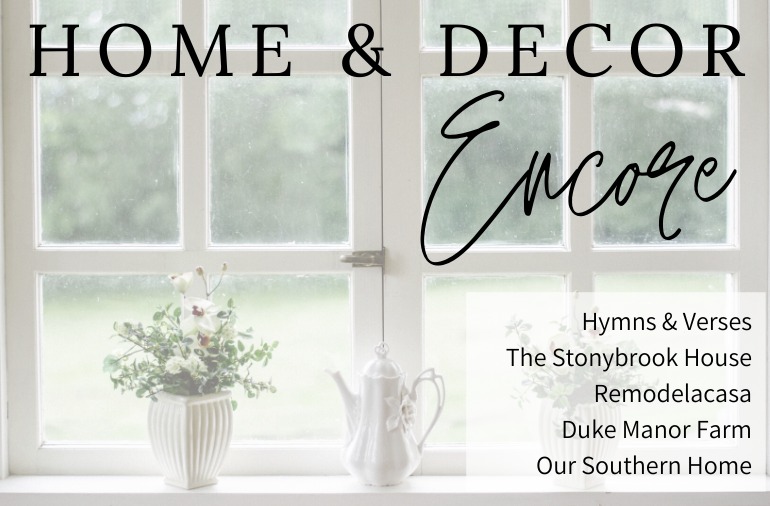 In today's post, Doreen is sharing all the details on how to set a cute and yummy Valentine's day hot cocoa bar. Hmm in my book, a cocoa bar can stay up at the ready all winter long! :) -Lori is as always so handy! This time she has a complete tutorial on how to create faux subway tile that looks like the real deal. Laura has a simple and cute organization idea, Christy's mantel is a favorite and she's sharing how to decorate it during winter. Finally, I'm sharing a super simple way to spruce up regular paper bags and use them as favor bags full of treats for Valentine's day.
💕
Click the link above each picture to take you to the post.
HYMNS & VERSES | VALENTINE'S DAY HOT COCOA BAR
THE STONYBROOK HOUSE | DIY FAUX SUBWAY TILE
DUKE MANOR FARM | STYLISH ORGANIZATION IDEA
REMODELACASA | VALENTINE'S DAY FAVOR BAGS
OUR SOUTHERN HOME | WINTER MANTEL IDEAS
Enjoy the weekend!