Warmer weather is almost here and I know you guys are desperate to get outside to enjoy it. One of our family's favorite things to do on summer nights is to sit outside on our deck with all those twinkling lights above us. It really is magical!
We installed string lights on our deck a few years ago when we built it, and let me tell you, it was one of the easiest projects we've ever done.
You can pretty much install lights anywhere you want! Of course, you can make this project as easy or complicated as you want. - Guess what? we went easy-peasy and super economical.
The most important things are the string lights and nowadays you have a great variety to choose from!
Incandescent, LED's, color-changing, etc., etc. Here is just a little taste:
We used incandescent bulbs, only one set of lights for our small deck and we haven't gotten a single damaged bulb so far.
Welcome to Home & Decor Encore, a weekly series where my blogging friends and I share the best of the best from our archives!
Big thanks to my friend Doreen at
Hymns & Verses
for all the work she does to bring you this weekly series.
In today's post Doreen shows you how to decorate your home with shade perennials, Lori gives her entry bench a needed makeover, Laura is on point with seven wonderful tips for a successful marriage, Christy spruced up her front porch with topiaries and I'm sharing a simple way on how to install string lights on your deck or patio.
Click the link above each picture to visit each project.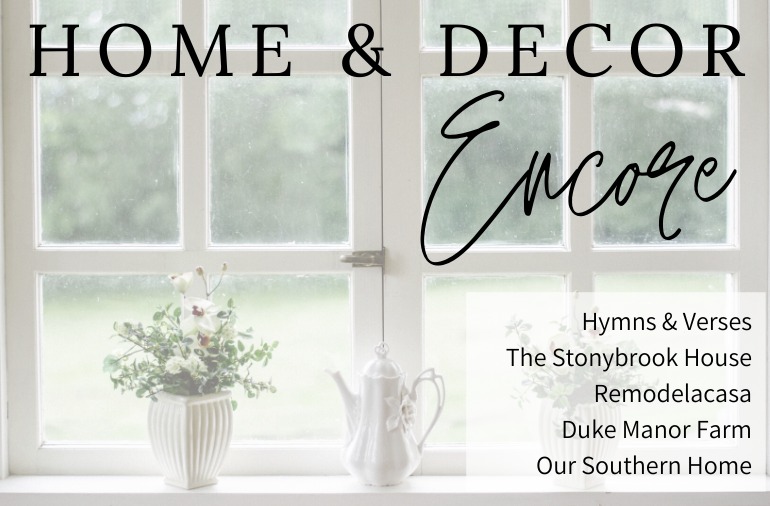 ❌⭕❌⭕
*This post contains affiliate links.