What wonderful weather we've had this entire week! It certainly feels like Spring has sprung. ☀️
Hopefully, you're also enjoying these warm days.
Thanks so much for your kind messages on my previous post, the Spring home tour. Today is the final day, with five more beautiful homes being featured. You can still hop on to the tours
right HERE
Changing the subject a bit, let me ask you, have you repurposed anything lately?
A chair? A light fixture? Turning them into something different?
I used to repurpose many items in the past like this tabletop turned mirror, or this tripod turned into a side table, or this metal thingy from an outdoor table turned into a hanging planter.
Well, the telephone sign you see in this picture below is another repurposed project I tackled a few years ago.
You can check all the details about that telephone sign right HERE.
Welcome back to another edition of Home & Decor Encore, a weekly series where my friends and I share the best of the best from our archives. This time I'm sharing great ways to repurpose wire spools.
Big thanks to Doreen at Hymns & Verses & Lori at The Stonybrook House for organizing this group!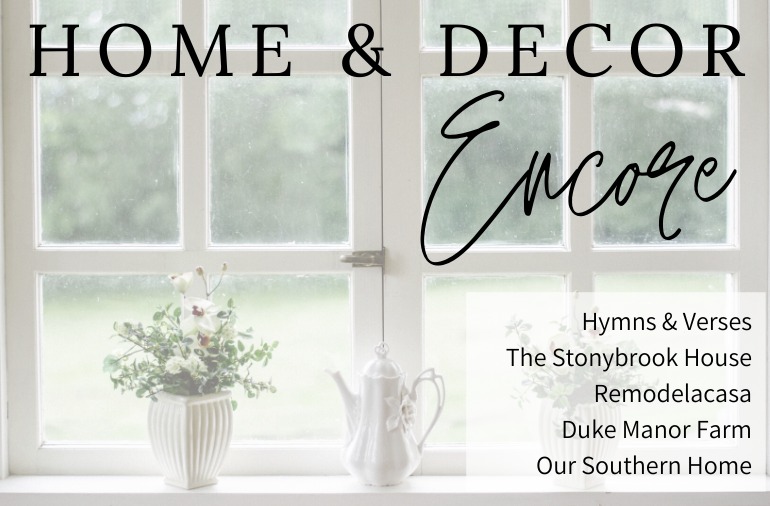 In today's post, Doreen is giving you complete details on how to plant a resurrection garden for Easter, Lori has a cute DIY for mini shiplap planters, Laura has a last-minute cake stand you can use for St. Patrick's day or Easter, or just about any celebration, Christy is giving us a tour of her beautiful bedroom decorated for spring and I'm sharing a few ideas on how to repurpose wire spools.
HYMNS & VERSES | RESURRECTION GARDEN FOR EASTER
THE STONYBROOK HOUSE | MINI SHIPLAP PLANTER
DUKE MANOR FARM | LAST MINUTE CAKE STAND
REMODELACASA | REPURPOSED WIRE SPOOL IDEAS