Every single project that I've tackled for my home always brings its own set of memories. Happy, sad, or even exciting times come to one's mind when we see these projects displayed around our homes. This floating shelf trio will always bring back a big set of memories and feelings of being in the middle of a pandemic.
Uncertainty was one of the biggest emotions I felt when I was building this desk area for my daughter. Even though they were harsh times, there were many positives that the pandemic brought out and those are the memories I want to save in my mind.
Some of the positive outcomes of the pandemic was being able to spend plenty of time with my immediate family.
We busted out the dusty board games and played for hours or watched new TV shows together. Technology was forced to keep up with our new lives and many services got updated to be functional from the comforts of home.
We were forced to take life at a slower pace as everything around us shut down. We could enjoy the simpler things in life such as a hot bath, a walk through the woods, or a home-cooked meal.
These shelves were built for my daughter - Remember how we all struggled to find a desk area within our own homes? This was her very own space and she's still using it!
You can find the complete details on how to build these clean/modern
floating shelves right HERE
.

Well, my friends, it's Friday and with it, another edition of Home & Décor Encore. A weekly series where my friends and I share the best of the best from our archives.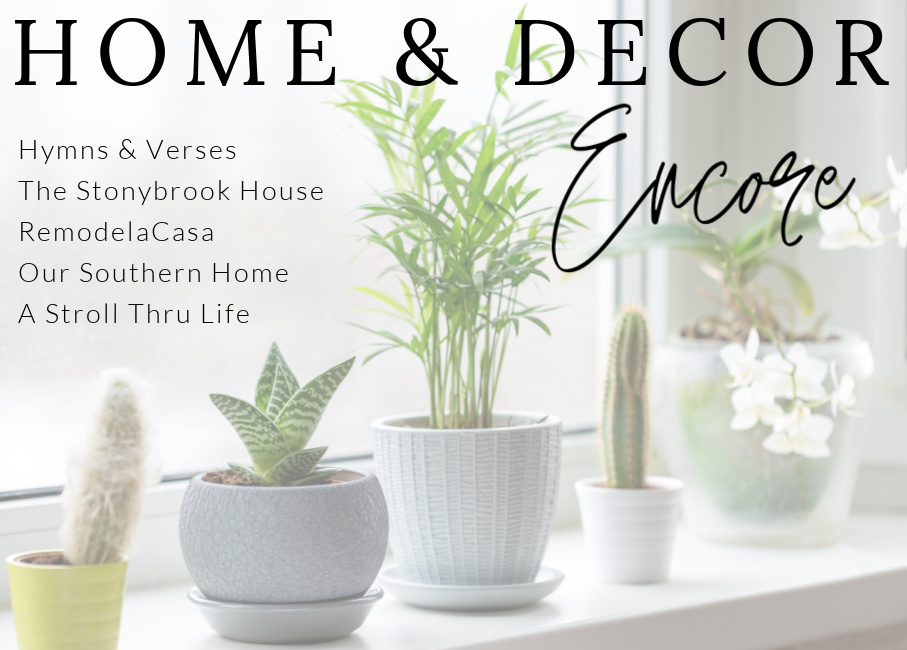 In today's post, Doreen talks about the lovely Queen Anne's lace flower, Lori shares the complete staircase transformation, Christy takes us on a tour of her beautiful home all dressed for Summer, Marty has a wonderful collection of low-calorie summer meals and I'm giving you all the details on how to build a set of floating shelves to create a desk area in any corner of your home!
HYMNS & VERSES | QUEEN ANNE'S LACE FLOWER
THE STONYBROOK HOUSE | HOW TO TRANSFORM YOUR STAIRCASE
REMODELACASA | DIY FLOATING SHELVES
OUR SOUTHERN HOME | SUMMER HOME TOUR
Have a great weekend!
Oh, and stay tuned for Summer Home Tour week, starting on Monday, June 7th over at my friend Marty from
A Stroll Thru Life
!
*This post contains affiliate links.